Free 2 yr old neutered chocolate point Siamese. The owner passed away and this loving kitty needs a new forever home.
What can I say ... he has a new home. Will be brought down on the 15th.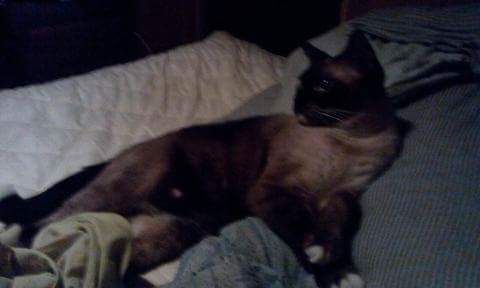 Dance as if no one's watching, sing as if no one's listening, and live everyday as if it were your last.

Life is not about waiting for the storm to pass. It's about learning to dance in the rain.
---

oneh2obabe

feistres Goruchaf y Bwrdd
Posts: 57303
Likes: 794 posts
Liked in: 6183 posts
Joined: Nov 23rd, 2007, 8:19 am
---
Got his mittens on I see! What a sweetie. I love Siamese. My boss has one and oh he's a little brat. Mouthy, snarky, throws tantrums (the kicking and screaming kind, it's a sight to behold).

One minute he's singing his sorrows like the world has taketh his last toy mouse and then the next minute he's giving you head boops (he DEMANDS a head boop) and showing off how handsome he is.
kelownawriter

Fledgling
Posts: 122
Likes: 8 posts
Liked in: 77 posts
Joined: May 27th, 2011, 3:18 pm
---
What a cutie!!
Fancy this, Fancy that and by the way, T*t for Tat

Fancy

Grand Pilgrim
Posts: 46409
Likes: 1188 posts
Liked in: 6392 posts
Joined: Apr 15th, 2006, 5:23 pm
---
---
Who is online
Users browsing this forum: CommonCrawl [Bot] and 0 guests