Moderators: oneh2obabe, Jo, ferri, Triple 6
jccamp95 wrote: Maybe its not about us going there, but them coming here! YIKES
That's right. There is no logical or compelling reason to assume aliens motivated and capable of traversing the distances of interstellar space should be friendly or benign.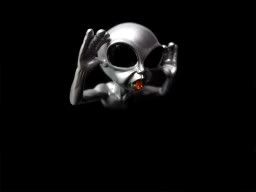 Buddha of the Board
Posts: 18539
Likes: 1108 posts
Liked in: 2469 posts
Joined: Dec 1st, 2004, 8:38 pm
---
Or would even want to come here!
So if a Redhead goes crazy is it called a Ginger Snaps?
The Wagon Master
Posts: 36426
Likes: 3495 posts
Liked in: 4580 posts
Joined: Apr 21st, 2005, 10:46 am
Location: The Great Pond
---
jccamp95 wrote:
Maybe its not about us going there, but them coming here! YIKES

As Hollywood has shown us 99.95% of aliens are not overly friendly - especially Kang and Kodos :skyisfalling:
They'd be hurt,
Attachments

image.jpg (13.44 KiB) Viewed 198 times
Our problem is that people are obedient all over the world in the face of poverty and starvation, and war, and cruelty. People are obedient while the jails are full of petty thieves, while the grand thieves are running the country. That's our problem.
Lord of the Board
Posts: 4026
Likes: 72 posts
Liked in: 110 posts
Joined: Feb 25th, 2009, 1:13 pm
---
zzontar wrote:I'm sure if there's an intelligent species on that planet and we ever make it there, they'll welcome us like a landlord welcomes a tenant who just trashed his last place.
:coffeecanuck:
Exactly.
"Did you protect your water?"
"What happened to the other half of your Earth's species?"
"Did you pave over arable land that could have been used to feed the hungry?"
"What happened to most of the eco-systems?"
"Can you explain that 1% vs 99% thing again?"
"Billions of dollars was spent to find us? and someone one wants to open a franchise now called Starbucks?"
Sorry we don't issue visas to IDIOTS.
Please stop bragging on facebook about how great the Okanagan is right now, or they'll want to move here.
Queen of the Castle
Posts: 34351
Likes: 8 posts
Liked in: 1495 posts
Joined: Jan 31st, 2007, 12:39 pm
---
20 years ago you couldn't say there was a single planet beyond Pluto. Now we have found a earth like planet orbiting the closest star to our own, and discover planets like the one posted every week. Eveytime we look closely at distant stars we see planets.

Factor in the deep-field photographs and you can bet there is a flurry of life out there.
Übergod
Posts: 1618
Likes: 0 post
Liked in: 3 posts
Joined: May 29th, 2012, 1:45 pm
---
---
Return to Computers, Science, Technology
Who is online
Users browsing this forum: No registered users and 1 guest