Thank God they were First Nations, and thus it wasn't politically correct for the RCMP to forcibly remove them.

I visited that fire this summer, and am quite familiar with the geography. The Chilcotin Chief is indeed correct that his people saved their community, BUT they also had luck on their side as well. This is a semi-arid valley, so the reservation is not surrounded by trees. The trees grow up on the hill, but around all the houses is just grassland. Meanwhile, next door at Hanceville (the white community), there are a lot more trees, and the fire came ripping through there so fast that people barely had time to leave as the Douglas fir forest went up in smoke along with numerous houses, including the only restaurant in town.

The wind, heat, and low humidity pushed the most extreme fire from the north to the south across the Chilcotin River, which is to the south of the reservation. By the time it had moved west to the Anaham Reserve, it was not moving as fast, and thus easier to fight. At that point it was only rank 3 fire activity. Still, without the reserve's resources, the grass would have been set on fire, and potentially the houses as well.
---

Glacier

Admiral HMS Castanet
Posts: 27062
Likes: 2969 posts
Liked in: 9224 posts
Joined: Jul 6th, 2008, 10:41 pm
---
Glacier wrote:Thank God they were First Nations, and thus it wasn't politically correct for the RCMP to forcibly remove them.
I would suggest there was also an element of just plain incorrect, and things were more than simply not "politically correct".
First Nations have their own system of governance and are accountable to their own people. They have a very deep connection with their land, a history and a culture of firekeeping, local knowledge, and they also have a very good talent pool to pull on through FNESS.
I have no doubt that FNESS would have been overwhelmed this summer, but I also have no doubt they also have the network to get them to the expertise required to make their own decisions and assessments. Our EMBC role should be one of advisory,information sharing and support. Their local government is in the best position to make the best decisions.
Bottom line, it worked out and that's a good thing. Unfortunately, the same can not be said for Boston Flats and parts of Ashcroft, where similar conditions exist, and all the kings horses and all the kings men...
Drip Torch - an upright and steadfast keeper of the flame, but when tilted sideways the contents spill and then our destiny is in the wind...
---

Drip_Torch

Übergod
Posts: 1225
Likes: 293 posts
Liked in: 692 posts
Joined: Aug 16th, 2012, 10:56 am
---
DripTorch. To view "declare fireban" thread go to viewforum.php?f=78
nothing wrong with being open minded as long as your brains don't fall out.

Catsumi

Übergod
Posts: 1989
Likes: 2530 posts
Liked in: 1763 posts
Joined: May 24th, 2017, 8:26 pm
---
This thread was started during the Engagebc process on the Emergency Program Act. I keep adding to this thread because I believe this Act could use some attention. If I could push the bow of this ship a few degrees in an attempt to influence our current course, I would do so not by changing how the Act is written, but by changing the way it is read.
A couple quick examples from the Act:
Local authority emergency organization

6 (1) …a

local authority

is at all times

responsible for the direction and control of the local authority's emergency

response

.

(2) …a local authority

must prepare

or cause to be prepared local

emergency plans

respecting

preparation

for,

response

to and

recovery

from emergencies and disasters.
I've added a little emphasis to highlight an area I would suggest there is more work to be done on. It's one thing to have a plan and an organization that implements the plan, but in my opinion, that plan should flow from a more wholesome strategic emergency management process.
Obviously, the Province needs a top down, all hazards approach to emergency management, but clearly, some hazards are local in nature and the planning needs to be done locally. For example; Tofino might well be wasting its time planning for a large scale WUI fire, just as, Penticton might be wasting its time planning for a large scale Tsunami. Both locations could potentially, and have experienced on some scale, either event; however, clearly the level of risk is unique to each locale.
The basic emergency management continuum is a constantly revolving circle with four phases; Prevention, Preparedness, Response and Recovery. Our strategic emergency management planning, is in many ways, the center of that constantly revolving circle. It's an ongoing scan of the hazards and risks (HVRA) intrinsically tied to our mitigation efforts. The result, a strategic plan to build capacity through leadership engagement, training, exercise and performance assessments leading to strategic resource allocations.
This process is not a one off, or likely to be completed anytime soon - if ever. We live in a dynamic world that keeps us engaged in dynamic problems.
A few posts up, you'll find a quote from Dr. Barry Turner, "Organizational and Interorganizational development of disasters". It introduces the common conditions that tend to exacerbate man-made disasters: rigidities in institutional beliefs, distracting decoy phenomena, neglect of outside complaints, information handling difficulties, failure to comply with regulations, a tendency to minimize emergent danger and stranger danger. That last one, stranger danger is often viewed as actor's outside of the organization (eg: wildfire service, OFC, fire department) adding noise and distraction to the problem set.
I see it as something a little different. I often notice noise and distraction created by echoes within certain social constructs; particularly in instances where there is a degree of overlap between agencies, or some competing values, or goals, between the administrative and operational elements of those agencies. (eg: politics, budgets, beliefs, understanding and communication difficulties created by technical languages specific to the field, etc.) Business administration skills, with a little training in a second language, does not make a subject matter expert.
All of those conditions identified by Turner inhibit our progress towards the overall cultural adjustments required to put our modern day WUI problems into a well-structured form. BC is not unique in this, it's happening all over the globe.
For example; much like "the tool that Ed made" above, Wildland Urban Interface Fire is viewed differently depending on how you look at it, or where you see it from. In the broadest of terms, to the majority of people in British Columbia; who live in urban centers and see the rest of BC as the back-drop to a few dozen selfies per year, WUI fire describes an annoying news cycle period that happens every few years. To us, here in the Okanagan it really does mean something quite different.
Even the OFC defines WUI fire differently, depending on which document you're reading;
1) A WUI fire is a fire that is burning in wildland fuels or vegetation and has the potential to interface with urban or developed areas.
2) The wildland urban interface is defined as the area where. Structures and other human development meet and intermix with. wildland areas containing flammable vegetation (trees, brushes, grasses). A fire occurring in this area is called an interface fire.
3) fires occurring in or threatening an area where urban structures and wildland vegetation coincide.
So, in examining our problem, is a Wildland Urban Interface Fire defined by the area it's taking place in, or is it a type of event? In essence, is the "interface" a point where two environments meet and interact? Or, is it the interaction between various environments, values, systems and organizations? There's a difference and it's almost as stark as it in this example. Eg: I walk into your house, look at your fire place and say, "that's a big fire". Or, I walk up on stage at the local movie theatre and say, fire!
WUI fire - is it just a description of an area where a fire is occurring, or is it, an area where certain environments, organizations and values interface to create a much more dynamic problem?
Is an interface fire a place, or a thing? That's bound to change the way we look at, and cope with it – right?
The Fort McMurray fire offers a little insight. The convection column created a pyro-cumulonimbus cloud top reaching 12.5 kilometers up into the atmosphere. It was a real firestorm, one that caused its own weather and winds. The fire moved 40 to 45 kilometres in one burn period, and caused lightning strikes (that spawned new fires) 40 kilometers downwind of the advancing fire front. If that all sounds phenomenal – it truly is, but not one that is completely without explanation, or fully understood.
(Above is an artist depiction of the 1923 firestorm near Yokohama Japan. Titled the "Dragon twist" it shows an impression of the fire that killed over 38,000 people. This vortex has been studied and modeled in recent years by NIST, Berkeley University and as I recall even NRC published a small paper.)
This is another area where our current Act could be read differently and perhaps allow us to engage the conflicting points of view, at a local level, to collaboratively create those refinements that take us forward:
Local authority emergency organization
6 (3.1) …a local authority…may… appoint committees the local authority considers necessary or desirable to advise and assist the local authority,
(4) A local authority may … delegate any of its powers and duties … to the committee, emergency management organization or coordinator referred to in subsection (3), except the power to make a declaration of a state of local emergency.
It really is at the local level, with people engaged in local issues, where we can synthesize our understanding of definitions, strategies, tactics, best practices, etc., and it's the local level where we can make the most strategic resource allocations. Perhaps, some more functional definitions can be pushed up the decision chain, and maybe we can dispel some of the myths inherent in our current operational paradigms. At very least, we can create some headroom, so that our agencies can remain focused on task and not be distracted by operations based largely on magic thinking. (painting houses red, humidity bubbles… etc. lol.)
Under the current Act, we have the ability to:
(d) acquire or use any land or personal property considered necessary to prevent, respond to or alleviate the effects of an emergency or disaster;
(e) authorize or require any person to render assistance of a type that the person is qualified to provide or that otherwise is or may be required to prevent, respond to or alleviate the effects of an emergency or disaster;
(f) control or prohibit travel to or from any area of British Columbia;
(g) provide for the restoration of essential facilities and the distribution of essential supplies and provide, maintain and coordinate emergency medical, welfare and other essential services in any part of British Columbia;
(h) cause the evacuation of persons and the removal of livestock, animals and personal property from any area of British Columbia that is or may be affected by an emergency or a disaster and make arrangements for the adequate care and protection of those persons, livestock, animals and personal property;
(i) authorize the entry into any building or on any land, without warrant, by any person in the course of implementing an emergency plan or program or if otherwise considered by the minister to be necessary to prevent, respond to or alleviate the effects of an emergency or disaster;
(j) cause the demolition or removal of any trees, structures or crops if the demolition or removal is considered by the minister to be necessary or appropriate in order to prevent, respond to or alleviate the effects of an emergency or disaster;
(k) construct works considered by the minister to be necessary or appropriate to prevent, respond to or alleviate the effects of an emergency or disaster;
(l) procure, fix prices for or ration food, clothing, fuel, equipment, medical supplies or other essential supplies and the use of any property, services, resources or equipment within any part of British Columbia for the duration of the state of emergency
Through the creation of a local plan that contemplates all the powers available to a local authority, we can then take our plan to the Minister who may, by order, do one or more of the following:
(c) make payments and grants…to local authorities or other persons or organizations for the purposes of assisting in emergency prevention, preparedness and response;
(d) enter into agreements with and make payments or grants, or both, to persons or organizations for the provision of services in the development or implementation of emergency plans or programs;
(e) enter into agreements with the government of Canada or of any other province, or with any agency of such a government, dealing with emergency plans and programs;
(f) review and recommend modification of local emergency plans of local authorities;
(g) establish training and training exercise programs;
(h) provide support to volunteers as prescribed in the regulations
Building a good plan that includes the preparation for, response to and recovery from; within the local community, and that contemplates local issues, within a framework that intends to utilize all the powers available within the act, appears to me, to be the full intention of the act. Simply sitting back with a big elaborate plan that amounts to treating foreseeable challenges as routine events, until there not - and then calling EMBC and the Wildfire Service, might not be a plan. It could be viewed as an abdication.
Last year, around this time, the wildland fire conference in Kelowna was opened by Dr. Satyamoorthy Kabilan, the director National Security and Strategic Foresight, for the Conference Board of Canada. The core theme building resilience. His opinion, there are three key elements to building resilience; utilizing help, building community relationships and relying on good people.
"If we don't have the community helping themselves, we don't have resiliency in place."
With this thread, I've been trying to alert the public (you) to the need to get involved, give it some thought, or at very least, take a good look at what's going on around us. In just my lifetime wildfires have gone from largely local instances, which occasionally required support from regional offices. To regional, sometimes multi-regional occurrences that require an increasing amount of support from the Province, the Federal Government, NGO's and cooperating agencies around the world.
Overall, the wins are many: the rough cut is a 95+% success rate on initial attack over on the forestry side, but the degree of losses are increasing and overshadowing the best efforts. That remaining 5% is really starting to affect our safety, security and quality of life – it's costing us a few bucks along the way too.
Hiding in plain sight this whole time has been the changes to the Fire Services Act. The Fire Safety Act was introduced into the Legislature early 2016 and it (the fire safety act) is set to replace the current act. Sections 13 and 14 introduce new powers when it comes to evacuation, and Division 2 – Administrative Penalties; outlines how those powers will be used. In a nutshell, this act provides for the police to remove people from evacuation zones and the regulations are expected to put in place administrative fines for people that don't immediately follow those orders.
Implementation of the Fire Safety Act will align the law with the currently printed Operational Guidelines (2nd edition) that EMBC provides for the operation of EOC's.
"Evacuation Order – the population at risk is ordered to evacuate the area specified in a formal written order. This is an order and as such does not allow for any discretionary decision of the part of the population at risk. They must leave the area immediately."
Again, not to say there isn't whole lot of successes being realized along the way, but IMHO, completely predictable circumstances are not being adequately planned for, at the local level, and we're living with a series of cascading failures, as a result.
That's something BC's Emergency Program Act, as it stands today, could be addressing.
Drip Torch - an upright and steadfast keeper of the flame, but when tilted sideways the contents spill and then our destiny is in the wind...
---

Drip_Torch

Übergod
Posts: 1225
Likes: 293 posts
Liked in: 692 posts
Joined: Aug 16th, 2012, 10:56 am
---
The Fountaingrove II, Open Space Maintenance Association's
Annual FIREWISE meeting was cancelled
.
In fairness, I'll admit the Association still held an annual meeting, but it departed from the usual agenda and orders of business. This year's agenda in a moment, but first I'll post a bit about the history of Fountaingrove II and its Open Space Maintenance Association.
Fountaingrove is a master planned development in Northern California built around a lush green golf course that serves as both an amenity and a practical fire break. Fountiangrove II is the neighbouring development that takes this concept even farther. 600 homes sprawling over 600+ acres with over 200 acres of maintained open spaces, landscape level fire breaks and mandated defensible space.
The OSMA board is organized by a Real Estate Management Company, with a board of directors supplemented by volunteers who serve in a committee capacity. They maintain National status as a recognized Firewise Community. The mission to
"responsibly manage its Wildland Urban Interface as a scenic treasure, balancing preservation of a self-sustainable environment of native vegetation and habitat, with the concerns of fire safety for the Community."
They are supported in their endeavours by three separate Architectural Review Committees that have authority to enforce covenants, conditions and restrictions around Firewise landscape and building codes. Plants and buildings are regulated, as is the landscape design and defensible space. OSMA doesn't just advise, they maintain and manage the 233 acres of common space and parks. They irrigate over 20 acres.
OSMA isn't just a body of taking heads – it actually organizes contract boots on the ground with rakes, saws, shovels and weed-wackers – annually. In fact, OSMA's work and designation as a Firewise Community earned the community an additional 5% reduction in insurance rates. They're also supported by an enforcement regime that sees the fire department give enforcement notices for prohibited vegetative growth, followed up within a set time by action. Contractors remove the fuels and the bill is added to the offender's tax bill. Between 2004 and 2009, $734,000 had been spent on landscape level fuel treatments. The projected budget for 2010 between $175,000 and $200,000.
As you may have gathered by now, OSMA takes fire safety, and in particular Firewise development, very seriously and they are the only recognized Firewise community in Santa Rosa County. All for good reason too, they are designated a very high hazard severity zone by the City of Santa Rosa and there is a fire history that suggests a 50 year cycle for the occurrence of a severe fire.
Sept 19, 1964, a discarded cigarette near Hanly Ranch on Mount St. Helena started a blaze fueled by diablo winds that wreaked havoc for days. Grant King, chief of the Guerneville Fire Department stated, "This is the craziest fire I've ever seen. The wind just hangs back, then fire comes in a rush with the wind, and you're dead." After a few days of following the fire around in the hills, it made a sustained run into northern Santa Rosa. The Governor, Edmund Brown, toured the area by plane the next day and declared it a disaster. In the end, 53,000 acres burned, leveling 156 homes and a number of uncounted farm buildings.
More than half of Calisoga's 2500 residents were evacuated.
Safe to say things have changed quite a bit since this picture of the Hanly fire was snapped.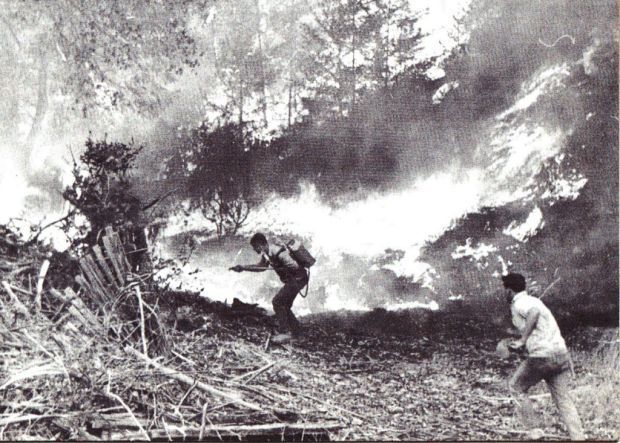 Due to the fire history, the Fountaingrove II footprint sits in one of the four designated historic wildfire corridors in Sonoma County. Of course, a lot has changed since 1964, there's a greater awareness, paths to Firewise recognition and much more regulation and involvement by Local Governments and in this case the Association.
http://www.fountaingroveii.com/sites/de ... osma_0.pdf
http://www.fountaingroveii.com/sites/de ... ns_web.pdf
Not only does Santa Rosa have a CWPP, but Fountiangrove II also has a specific and comprehensive Community Wildfire Protection Plan that was last updated October 2, 2009.
http://www.fountaingroveii.com/sites/de ... RCDD_0.pdf
For the residents of FG II the reminders are constant, it's an ongoing work in progress, the importance of which was highlighted again in 2015, by the neighbouring Valley Fire that all but took out Cobb, Middleton, Whispering Pines and the south end of Hidden Valley Lake. The fire of Sept 12, 2015 burned over 76,000 acres, destroyed nearly 2000 buildings and killed four people.
Four firefighters were also burned over during the initial attack, sustaining second degree burns.
The Valley fire was referenced in the May newsletter of this year which outlined the ongoing work, owner's responsibilities and noted that a wet spring was leading to an increased workload, because of a more robust spring green up. The reminder was in BOLD:
"remember, your own property needs to be kept weed-free and fire-safe all season long beginning on June 1st"
.
At their spring meeting Tony Gossner, a veteran Firefighter and Fire Chief of three years "thanked OSMA for their huge efforts in fuel reduction and management and making their community a safer place to live." He also noted, not all of the neighbouring communities were doing the necessary work.
At approximately 9:43 pm on Sunday, October 8th emergency dispatchers sent fire crews to a report of fire near Tubbs Lane in Calistoga, approximately 3 kilometers away from where that picture above was taken in 1964. The fire, approximately 16 kilometers from the outskirts of Fountaingrove II.
The next day, Gov Jerry Brown would tour the area and declare it a disaster once again.
The Open Space Maintenance Association annual meeting this year started with:
The OSMA extends its deepest condolences to all our Fountaingrove II family, whether you lost your home, your business, your neighborhood, pet(s), or most tragically, someone you loved. Our neighborhood will never be the same, but we will come back and we promise to create an even stronger community.
The agenda – recovery from an almost total loss.
Drip Torch - an upright and steadfast keeper of the flame, but when tilted sideways the contents spill and then our destiny is in the wind...

Drip_Torch

Übergod
Posts: 1225
Likes: 293 posts
Liked in: 692 posts
Joined: Aug 16th, 2012, 10:56 am
---
---
Who is online
Users browsing this forum: CommonCrawl [Bot], Walking Wounded and 0 guests