ochema62

Newbie
Posts: 39
Joined: Dec 31st, 2006, 9:32 pm
Hello, Iam looking around at 4 door 4 wheel drives and would like to get some feed back on Ford, Chev.,GMC and Dodge. Not looking at new. Anything from 2003 up in the 1/2 ton line. If you bought from a dealer were you treated well or not?
Thanks for any info.
eyepop

Lord of the Board
Posts: 4453
Joined: Jun 2nd, 2006, 9:23 am
ochema62

Newbie
Posts: 39
Joined: Dec 31st, 2006, 9:32 pm
tawnylee

Generalissimo Postalot
Posts: 778
Joined: Sep 4th, 2006, 11:44 am
This is soooo not new, lol, and probably not what you're looking for,
but my dad fixed up a 67 Chev short box step side while I was growing up and I fell in love with it.
This isn't the exact one, his was chevy orange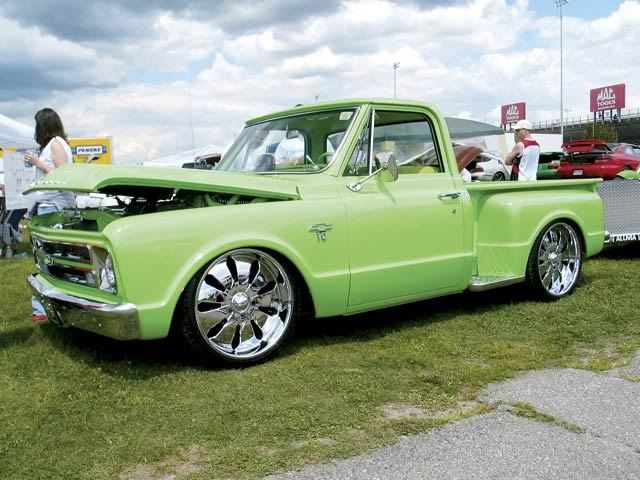 "When you get into a tight place and everything goes against you, till it seems as though you could not hold on a minute longer, never give up then, for that is just the place and time that the tide will turn."
~Harriet Beecher Stowe
Mama

Lord of the Board
Posts: 4034
Joined: Jul 15th, 2006, 5:20 pm
My `71 GMC Sierra Grand Pick up.
Because I loved the grill, the motor, the tires, the smell when I opened the door. She was so reliable and had everything I needed until the kids got to big for the 4 of us to fit anymore.
Open the window, crank the stereo and drive all your worries away. She was better than Valium.
Someday when I dont have to be responsible again I am going to buy her back and feel whole again.

Sorry, not the reason you asked the question was it haha
4 door fave was my Suburban. Hands down the best vehicle for a busy family.
MY GREATEST FEAR IS, THERE IS NO PMS, AND THIS IS MY REAL PERSONALITY.