LoneWolf_53

Walks on Forum Water
Posts: 12496
Joined: Mar 19th, 2005, 12:06 pm
If there ever was a thread the mods need to nuke this is it.
"Death is life's way of saying you're fired!"
onestop67

Guru
Posts: 9531
Joined: Sep 10th, 2006, 11:12 pm
C'mon now LoneWolf, you know how it works.
If this was the OP's avatar,
I would never post this!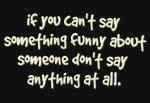 onestop67

Guru
Posts: 9531
Joined: Sep 10th, 2006, 11:12 pm