vegas1500

Grand Pooh-bah
Posts: 2358
Joined: Aug 4th, 2013, 6:53 pm
Condolences....she sounded like an amazing lady.
stuphoto

Grand Pooh-bah
Posts: 2754
Joined: Sep 18th, 2014, 7:41 am
This is from our trip to the Maritimes 2 years ago for the Canada 55 plus games.
Mom proudly showing of her first gold medal.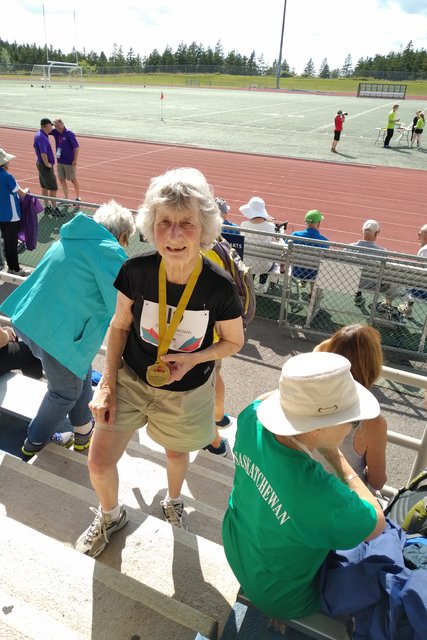 With my sister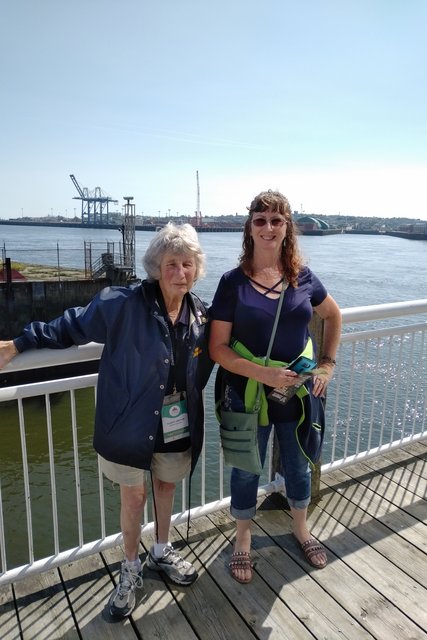 And Peggy's Cove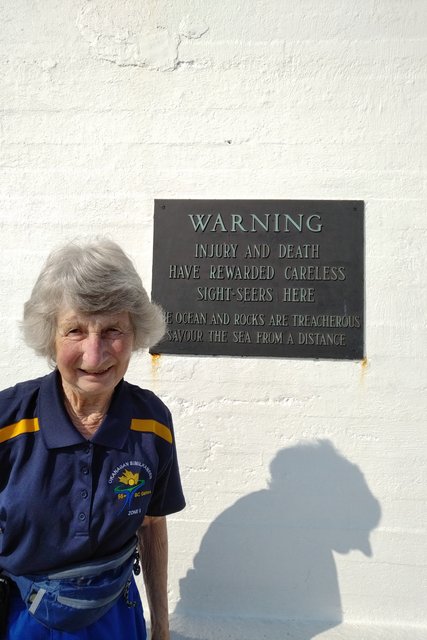 I took the time out and paddled around Jewel Lake today. Making a short video of one of moms favorite places
https://m.youtube.com/watch?v=k4u7tRa0M5I
It is where we brought her for a picnic and canoeing on her birthday.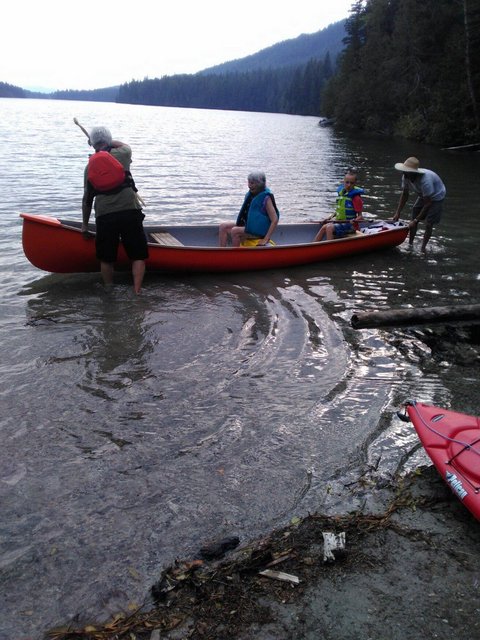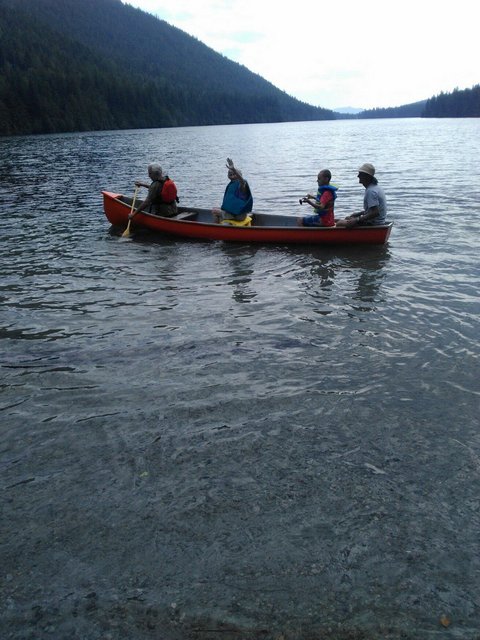 It feels like she is watching over me when I am there.
alanjh595

Buddha of the Board
Posts: 22332
Joined: Oct 20th, 2017, 5:18 pm
Mom and I rescuing a family of Quail.





You do not have the required permissions to view the files attached to this post.
Bring back the LIKE button.
ferri

Forum Administrator
Posts: 55382
Joined: May 11th, 2005, 3:21 pm
stuphoto wrote:This is from our trip to the Maritimes 2 years ago for the Canada 55 plus games.
*snip*
I'm so sorry for your loss stuphoto. One thing I can clearly see is that your mom lived life to the fullest! Thanks so much for sharing her with us. :)
"Weak people revenge. Strong people forgive. Intelligent people ignore."
― Albert Einstein
Piecemaker

Walks on Forum Water
Posts: 12522
Joined: Jun 6th, 2007, 8:43 pm
So sorry for your great loss, stuphoto. Glad you have good memories of her that will remain.
It's possible to do all the right things and still get a bad result.
stuphoto

Grand Pooh-bah
Posts: 2754
Joined: Sep 18th, 2014, 7:41 am
It was 4 weeks to the day or exactly 2 months after moms 83rd birthday.
Some days are getting easier, however there are some days my soul feels like it is getting ripped apart.
Going through depression doesn't make this time any easier.
Thankfully I have some great friends helping me get through it all.
I do have a sister, but the only time she would give our mom the time of day is when she wanted something.
She suddenly took interest in the estate the moment mom passed on
For some reason I doubt I will ever talk to her again after it's all finished.
Anyway I am still thinking of mom constantly, and wish she was still around.
However I am starting to look ahead and think about my future.
We will have to sell moms property and split the $
After which time I will probably be moving back East pretty much as far as you can go without hopping onto a boat.
I would love to stay in BC, however I just can't afford the property I want here.
Mom always knew my plans to move east and supported the idea. If I would have made the move there 20 years ago she would have probably moved close to me.
She loved the Maritimes too.
I do have some very good friends living there who I know will help me settle in.
Plus I thankfully have an easy time making friends.
So I know everything will work out.
In the meantime, I have spoken to my employer and will either be returning to work for them soon or take a camp job.
My employer is great to work for, plus very supportive which I could really use at this time.
However paying the bills will be a struggle throughout the winter. Our only scheduled work is driving the hockey teams on day trips at this time.
Whereas the camp job will give me enough $ to buy my house by the summer.
It's a tough decision, however I think it's time to take care of myself rather than others.
Other than that I don't know what to say at this time.
I have 2 pictures I would like to share with you all tomorrow.
I just have to photograph them in the daytime and hopefully without a reflection.
stuphoto

Grand Pooh-bah
Posts: 2754
Joined: Sep 18th, 2014, 7:41 am
I guess I lied, it's 3 images
1/4 of her medals, in a Stunning frame made by Roberts Framing, Kelowna
Mom helped her dad build this barn, when she was 10 or younger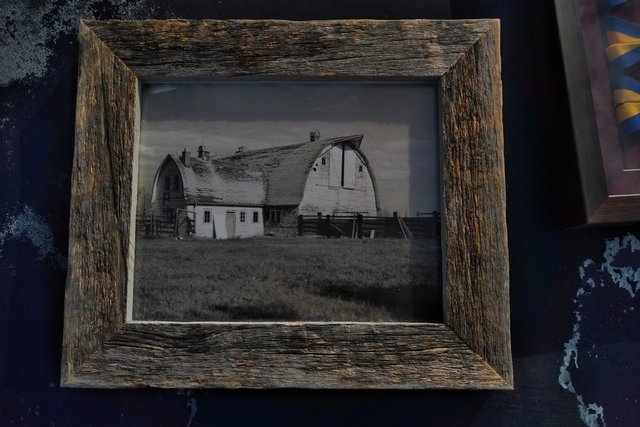 I am thinking of reporting it to the Child Labour Laws
On a side note, when I took the photo about 8 years ago I had a very interesting conversation with the owner.
He was the one who purchased the farm from my grandfather's estate in 1965, and he told me about the moonshine operation hidden away.
Mom told me she never knew about it, but she did know about his award winning potatoes.
She was surprised when I told her that's the main ingredient in moonshine.
Proof that we were robbed by gunpoint 10 years ago.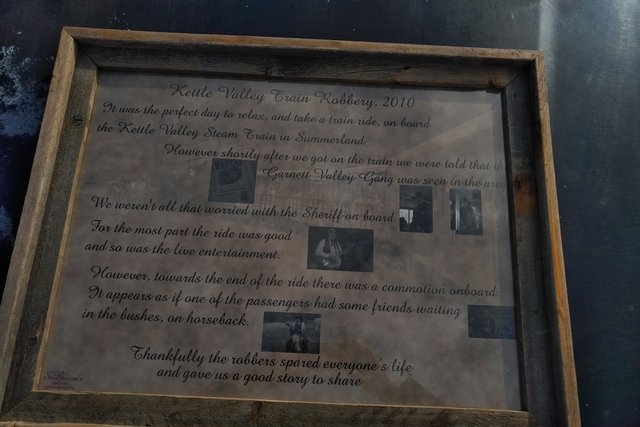 I completely forgot that I had overlayed everything over another imagine until now.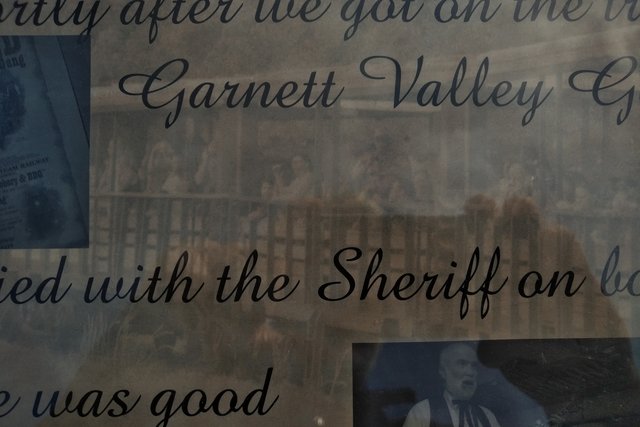 If you haven't ridden on the Summerland train, you are missing out on something special.
The proceeds raised by the robbery go to a good local cause.
Queen K

Queen of the Castle
Posts: 67265
Joined: Jan 31st, 2007, 11:39 am
Awww thank you for sharing.
I think the number one reason siblings don't talk for decades is the inheritance issues and who does what. You are not alone on that score.
Lovely photos. The medals! Oh my, how proud your family must be to have a mom who did that.
If Putin stopped, he'd be saving Russian lives as well. Never thought the right would have a field day but June 24/2022 it is.
stuphoto

Grand Pooh-bah
Posts: 2754
Joined: Sep 18th, 2014, 7:41 am
Tomorrow would be my moms 84th birthday, and since I have to work I decided to celebrate it today by spending some time in the kayak I built in her memory.
I am certain she was at my side.
It was a beautiful and relaxing paddle in gentle waves.
I still miss her and wish she was still around.
However I know she would love it that I am enjoying life and doing things I have been putting off.
Plus I wanted to share this photo a friend sent me a week ago with mom playing with her cat.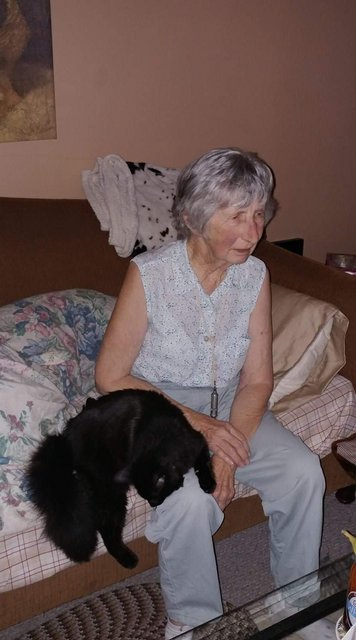 For everyone who never say my kayak build thread here are 2 images from it.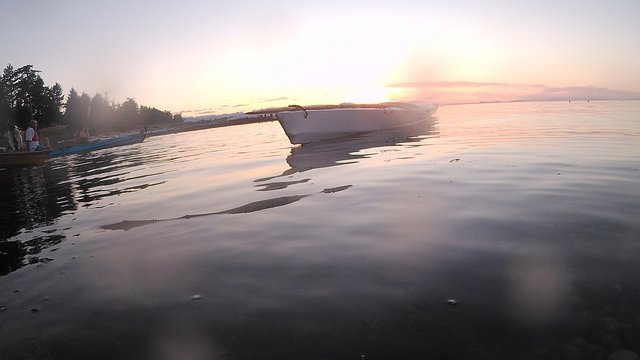 just popping in

Lord of the Board
Posts: 3740
Joined: Apr 3rd, 2011, 8:15 pm
You will always miss Mom but the beautiful memories will help ease that loneliness.
stuphoto

Grand Pooh-bah
Posts: 2754
Joined: Sep 18th, 2014, 7:41 am
Wednesday will be the one year mark.
I am going through the blues at times however I have friends who have helped me through the worst parts.
My phone will be shut off for that day and I will take a nice nature hike in honor of my mom.
I know she would want to be there, and may actually find a way to join me.
If my mom can see me now, I know she would love that i have since found my dream job on BC's only tropical island.
viewtopic.php?f=15&t=88957
Plus I have met a nice lady, whom she may actually approve of. She has always accepted the women in my life but never approved of any.
Plus I am still often remembering the good times I had with her.
Yes I still miss my mom very much but am getting on with my own life.
As I believe she would want.