stuphoto

Grand Pooh-bah
Posts: 2754
Joined: Sep 18th, 2014, 7:41 am
The next boat I am looking at, a week from today.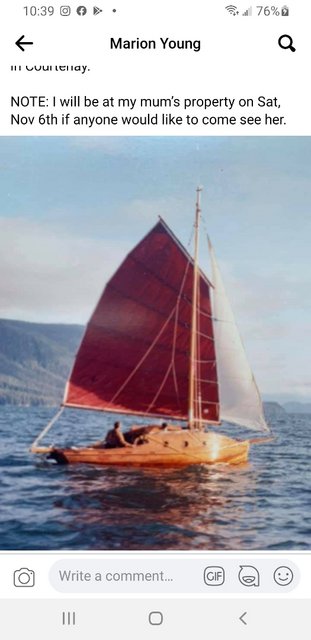 It is smaller than I was originally looking for, but I realized it's a good size for putting around the Golf Islands with.
I still have an RV to live in and reduced rent in exchange for some work.
I may have stacked the deck, offering a them rides on it all next summer and I possibly after that.
Plus a photo shot with my antique 8x10 camera and developed plus printed in my darkroom of it.
My plans are to return to Kelowna on the 17th.
I need to sign some documents for in regards to Mom's estate, so I can't put it off any longer.
Lady tehMa

A Peer of the Realm
Posts: 20305
Joined: Aug 2nd, 2005, 3:51 pm
That is a lovely boat - I hope you do get it.
I haven't failed until I quit.
seewood

Lord of the Board
Posts: 4516
Joined: May 29th, 2013, 2:08 pm
Does it have a fixed keel, centerboard or swing keel? Looks like with that sail area it would boot along down wind or on a reach pretty good.
I am not wealthy but I am rich
stuphoto

Grand Pooh-bah
Posts: 2754
Joined: Sep 18th, 2014, 7:41 am
I can't answer the question about the keel yet.
After a little research it sounds like Junks tradionally build them into the rudder.
This one was built in the Philippines around 1950.
I know a little about the history, and Love It,
The lady who owns it bought it around 1970.
She raised 2 daughters, I gather mostly on her own and they even lived on it one summer.
10 years ago she sailed it on her own from Prince Rupert to Courtney at the age of 71 years old.
Someone on Facebook ( which I am not a member of ) was saying that they met her along that trip and she was having engine problems. They offered her a tow and she chose to stick it out on her own.
If you are on Facebook you may be able to read it all here.
https://www.facebook.com/689116861/post ... /?sfnsn=mo
Put in a good word for me if you wish too
Without even meeting her, I am proud of her accomplishments.
At least one of her daughters now lives on Hornby Island, and I don't know if we have met yet.
A friend of mine got us texting back and forth about the junk.
If I get it, I plan on doing a resto mod, as in keep it looking original. However all the lights will be converted to LED.
I may try hiding a flat screen TV behind a paper like sliding wall.
I will hide some solar panels inside and bring them out on sunny days but nothing permanent.
Possibly a submersed generator to harness some tidal energy while moored.
If there is a stove it would be one of the few visible upgrades since I don't exactly trust old alcohol stoves. I haven't used one but a good friend told me about how you just can't see the flame, and never know when they are leaking.
A friend of mine may be taking the trip with me.
Chris is a retired Yatch builder and has a pretty good idea what to look for.
Here is his website
https://hogfishdesign.wordpress.com/
It's funny, when we met I was admiring his boat and he was admiring my kayak
stuphoto

Grand Pooh-bah
Posts: 2754
Joined: Sep 18th, 2014, 7:41 am
I have been doing a little research on Ballasts since it apparently doesn't have any.
Although I haven't found much I found this interesting.
Finally, there is one unique (to the best of my knowledge) and clever feature of these historical junks that merits special mention. The bow section contained a compartment that was intentionally leaky. Water could enter this compartment and then drain away as the junk pitched in heavy seas. This design ameliorated the pitching motion, and it worked as follows. When the bow plunged down into the sea, the air-filled compartment provided a "righting moment'' that reduced the downward pitching. The compartment then filled with water. As the prow pitched upward, the water-filled compartment provided a force acting downward, to again counter the pitching motion. By the time the prow again plunged into the water, the compartment would have drained. Thus, the leaky compartment was mostly filled with water when high above the waterline and was largely empty when beneath the waterline, with beneficial effects on pitching motion.
Taken from here.
https://www.boatbuilding.xyz/science-of ... ition.html
It has me wondering if the ancient Chinese people had somehow perfected sailboats without keels or even Ballasts.
I think it will be interesting to sail on when finished.
So much to learn.
stuphoto

Grand Pooh-bah
Posts: 2754
Joined: Sep 18th, 2014, 7:41 am
I looked at the boat today.
Sorry no photos yet, but here is what I found.
To start with, there are some planks that will need replacing.
They are all 1 1/2 inch Yellow Cedar, which should be easily available.
The interior has been completely stripped to the ribs.
Which has helped a keep her her from rotting from the inside out.
Plus less garbage to dispose of.
The motor is a Yammar Diesel, right in the middle of where the galley was.
The daughters said she had an outboard originally and I don't think they have ever been in it with the diesel.
However it was cooled with water straight from the source, in this case always Salt water.
Rebuild kits start at around $700 but in this case I think it's too far gone.
However, John Deere also used these motors in their small tractors, so I don't think I will have much trouble finding one.
The daughters never knew she was stripped down until today.
It is honestly UGLY
However I know I can give her a new life, if I am chosen as her next caretaker.
My plans involve sanding her right down, which should give me a very good idea what planks need replacing
Of course replace them.
Bottom coat, then probably a varnish hull above the water line.
Linseed oul everything above that, which is pretty much how she was originally built.
Onto the interior.
Mostly red cedar with yellow Cedar trim.
Basically put the bunk where it originally was.
If I decide to use an inboard, I will be build an island around it with a table and stove rather than building these along the walls.
I will of course use a modern cooling system which keeps regular coolant separate from the salt water.
Again, if I get her, I plan on documenting the restoration on YouTube, along with share her history.
To be honest, I would probably pass on her if she didn't have a beautiful story to tell.
However when completed, she will also look very impressive on my resume and along with my other artwork.
I would think I should have the answer by the end of the weekend.
Just a quick edit,
If I get it, I thought up the perfect name for the YouTube channel.
Stu's Junk
I wonder how many people will take it the wrong way.
Lady tehMa

A Peer of the Realm
Posts: 20305
Joined: Aug 2nd, 2005, 3:51 pm
Glad you warned us, Stu!
I would be interested in watching your progress if you do get it.
I haven't failed until I quit.