oneh2obabe

feistres Goruchaf y Bwrdd
Posts: 83142
Joined: Nov 23rd, 2007, 9:19 am
Was one of Harper's taglines during the election. I think he got the message loud and clear last night.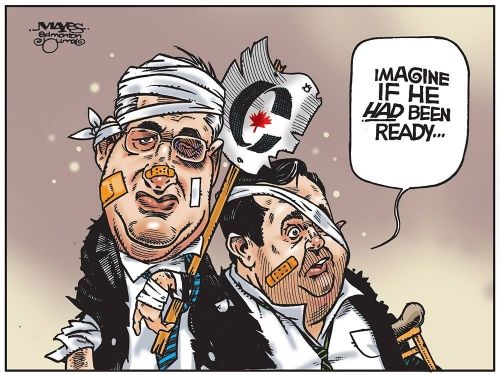 Dance as if no one's watching, sing as if no one's listening, and live everyday as if it were your last.

Life is not about waiting for the storm to pass. It's about learning to dance in the rain.
The Green Barbarian

Insanely Prolific
Posts: 58817
Joined: Sep 16th, 2010, 9:13 am
I don't think he's ready, but who ever really is for this job. It's not like we can go out and hire the former president of Argentina, because he has job experience. LOL. I do think it was time for a change, and we got it. It will be interesting to see how Justin ages as he governs, just as Harper really aged over the last nine years. Obama is barely recognizable now compared to what he looked like in 2008. The pressures and stress of running a country, are not for those who want to do it for their looks.
Justin Trudeau is an evil blight on this once great country. Shame on every single dumb-dumb that voted for this clown in 2021. LET'S GO BRANDON!!
rookie314

Übergod
Posts: 1600
Joined: Jun 11th, 2005, 10:00 am
I am waiting to see him go tell Putin off "to his face". After he laughs his *bleep* off and tells Justin to go to H. Welcome to reality Justin. I'd pay money to see that.
mr.bandaid

Grand Pooh-bah
Posts: 2734
Joined: Aug 29th, 2005, 2:06 pm
I didn't believe it when they said Canadians were sick to Harper, it's Trudeau. ;)
Never argue with an idiot, they will just drag you down to their level and beat you with experience.