Thinktank

Guru
Posts: 9261
Joined: Nov 5th, 2010, 6:21 am
How much do the top guys at the Mormon church earn?
In actual fact, how much does the President of the Church make? What about the Counselors in the First Presidency? The Apostles? The Presidents of the Seventy? The Seventies in the First Quorum?
For the time being, I believe it is literally impossible to answer these questions appropriately, especially because the Church is far from transparent with its financial information, or with any detailed information from which such answers could be deduced.

The Church views such financial data as sacred

(that is, secret), and thus off limits.



t then stands to reason that Apostles may earn something between $300,000 and $800,000 a year, if not much more in the higher echelon (i.e. First Presidency and Senior Apostles) -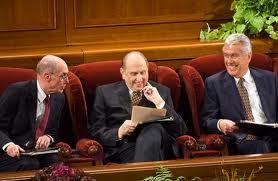 Those guys ( like the JW governing body) are probably better business men than they are 'Godly' men.
http://www.dovesandserpents.org/wp/2013 ... stle-make/
If you have to be persuaded reminded bullied pressured bribed incentivized, lied to, guilt tripped, coerced, socially shamed, censored, threatened, paid, punished and criminalized, to gain your compliance- the thing is no good
Piecemaker

Walks on Forum Water
Posts: 12586
Joined: Jun 6th, 2007, 8:43 pm
Religion is big business. Spirituality is free.
It's possible to do all the right things and still get a bad result.
Danielson99

Board Meister
Posts: 656
Joined: May 12th, 2008, 9:47 pm
Piecemaker wrote:Religion is big business. Spirituality is free.
Running a church that teaches spirituality costs money, period. Many churches completely live off of the donations of it's members. It is not enough to pay anyone but it's enough to build a church and maintain it. This works perfectly well even in poor countries all over the world. Just because the Catholic Church and many other profit based religions rip people off, it doesn't mean there aren't many really good churches out there. Look at the way monks live their lives...it's a great model to live by in many ways, as far as spirituality is concerned.
Thinktank

Guru
Posts: 9261
Joined: Nov 5th, 2010, 6:21 am
I think monks are insane. The way they live their lives makes no sense at all.
If you have to be persuaded reminded bullied pressured bribed incentivized, lied to, guilt tripped, coerced, socially shamed, censored, threatened, paid, punished and criminalized, to gain your compliance- the thing is no good