oneh2obabe

feistres Goruchaf y Bwrdd
Posts: 94491
Joined: Nov 23rd, 2007, 8:19 am
David Chan has spent 60 years collecting vintage photography gear.
Chris Chang: Making this film with David Chan is the most phenomenal filmmaking experience I ever had. David's personality is one of a kind, his love and passion in vintage cameras started when he worked as a camera salesman back in the 1960s. He learnt to collect vintage cameras when he made his first trip to Ginza Tokyo. Back to Hong Kong, he became a middleman, trading Leica cameras with the Japanese camera dealers, and sold Japanese cameras to the Americans and locals in Hong Kong.

Today, he is very happy to run a place that can bring film photographers together. No matter you are a beginner, or a professional, David is always happy to share his experience in film cameras with you.
Dance as if no one's watching, sing as if no one's listening, and live everyday as if it were your last.

Life is not about waiting for the storm to pass. It's about learning to dance in the rain.
stuphoto

Grand Pooh-bah
Posts: 2754
Joined: Sep 18th, 2014, 7:41 am
Everyone please take note of where he says Old Lenses are Radioactive.
I happen to have a safe storage for such lenses.
So please send them all to me, for the safety of your loved ones
Thank you for posting the link.
As a vintage camera enthusiast I really enjoyed it.
Oh back to the old radioactive lenses.
If you have any the glass can often change colour adversely effecting your images.
The solution to this issue is oddly enough set it in a Southern facing window.
The suns natural UV rays correct the problem over time.
Not in your car though, it gets too hot.
After it's cleared up just use the lens regularly and the problem won't likely come back.
Some of my favorite lenses have had this issue.
OKkayak

Walks on Forum Water
Posts: 14241
Joined: May 14th, 2018, 11:10 pm
Thats the thing with cameras, and other things built today, while they may be technological wonders, they just have no soul.
stuphoto

Grand Pooh-bah
Posts: 2754
Joined: Sep 18th, 2014, 7:41 am
I thought this would compliment this thread.
I finally had my ( 99 year old? ) Kodak 2D 8x10 plus an old ( 1960's ) Pentax 35mm Spotmatic cameras in the house at the same time tonight.
Here is a comparison on sizes between the 2.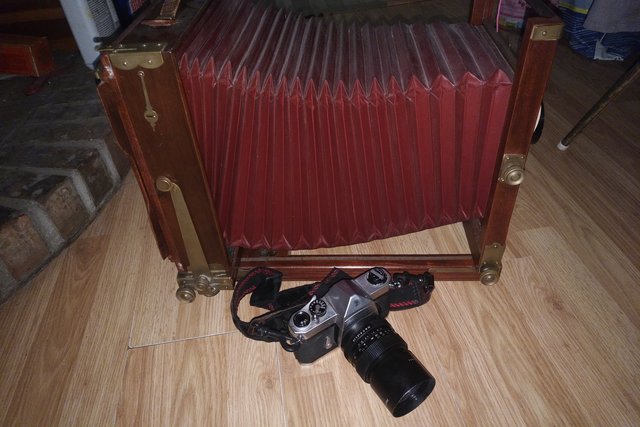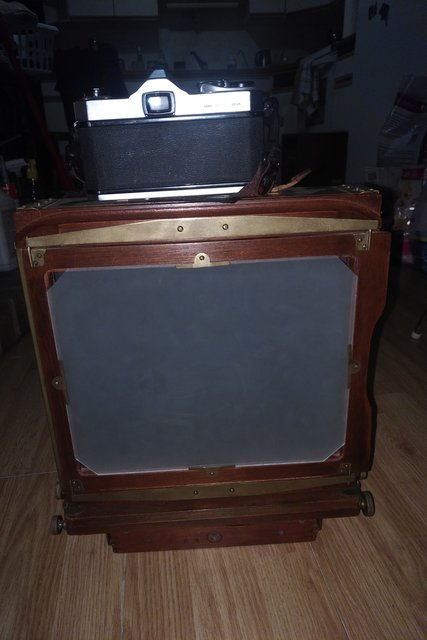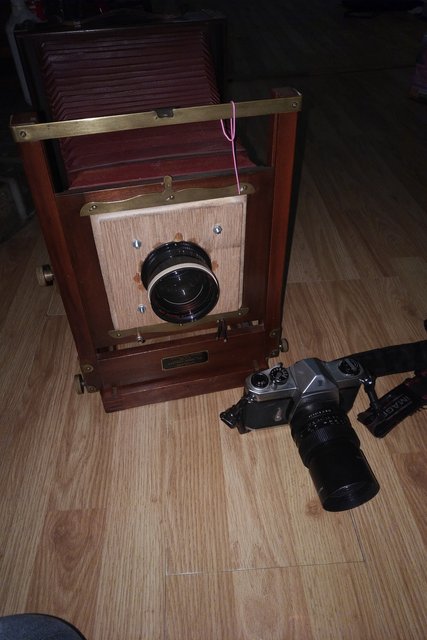 Sorry for the bad quality of this one.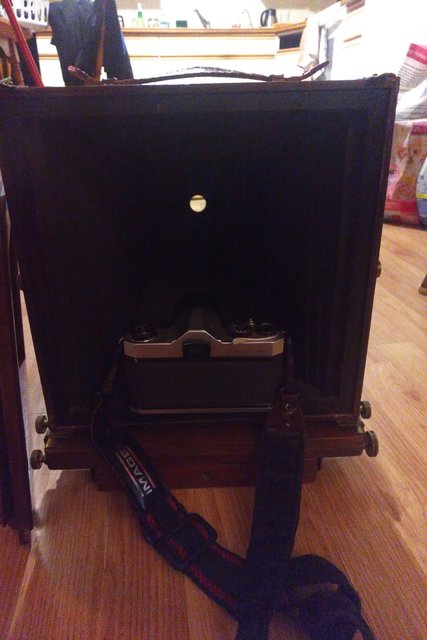 Yes that is the 35mm right inside.
The flash on my cellphone camera is hit and miss. More often miss.
Oddly enough this is the inside of the big camera.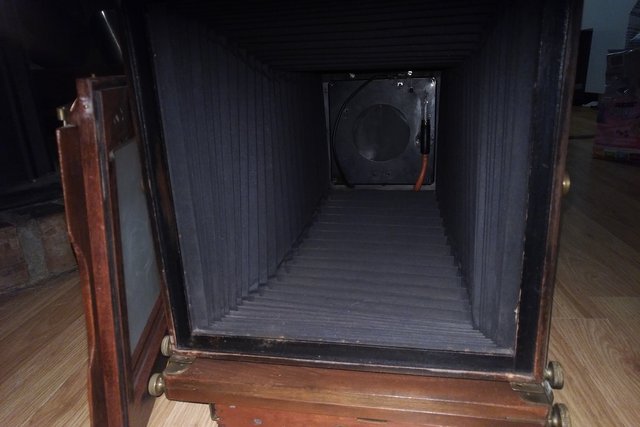 To focus we actually look through the big window on the back and extend the front out until we can see the subject appear in focus.
We honestly do use a cloth similar to those you see on TV, however if the subject is in bright lighting and we are in the shadows we don't always need the cloth.
Plus it is only to focus and we can't see through the window once the film holder is installed.
This is an example of what I see through the window, on this very camera with this actual lens.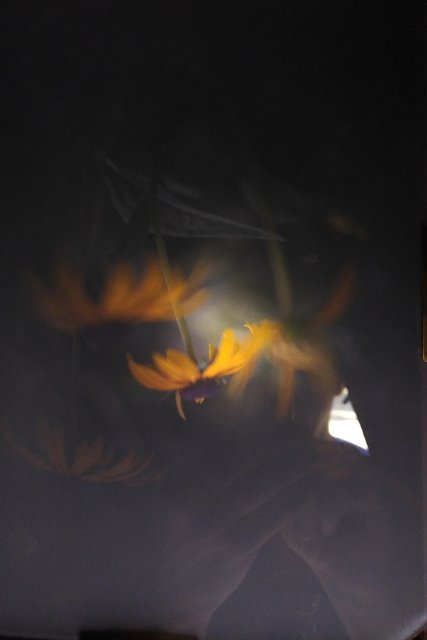 Including being upside down and backwards.
As you can see, I can focus onto just a seed inside a flower and blur the rest out.
One interesting thing is today's digital SLR cameras still use the exact same technology to focus. Just an air space.
Sorry, it is impossible to get real flash powder these days.
It started many fires so is pulled off the market.
Plus we don't need a flash outside on a bright sunny day.
The sunshine is brighter than the flash, rendering it useless anyway.